Shamsa Hussain
Last updated: January 2023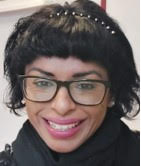 Shamsa has been dealing with eczema since early childhood. As an infant, it predominantly affected her joints, but as a teenager, it appeared on her face too. Thus, her teenage and early adult years proved to be very challenging. The facial eczema was usually dry, scaly, red...but also aggressive, angry, and very, very visible.
From as far back as she can remember, her eczema has always made her very self-conscious and has had a detrimental impact on her self-image and confidence. The highly apparent 'splotchy-ness' and vivid hyperpigmentation on her visage often resulted in her feeling ugly, unlovable, and induced feelings of self-loathing. Shamsa resigned herself to being the ugly duckling amidst a peer group of thriving and beautiful cygnets.
She spent a vast majority of her teens sitting and waiting in her GP surgery, staring at the same archaic, outdated, and tattered pharmaceutical advertisements, silently praying that this appointment would mark the magical miracle in her eczema experience. But, alas, with hindsight....she concedes that having the audacity of hope was ultimately naïve, for the miracle she so desperately sought never came. Instead, she was prescribed a plethora of various steroid creams, which, unbeknownst to her at the time, were causing her more damage than healing.
Meanwhile, Shamsa consciously chose to immerse herself in her academic studies. She derived her raison d'être from concentrating on pursuing her childhood dream of becoming a teacher. She let the passion and natural academic aptitude she had for her studies serve as an elixir and balm for her broken, mangled skin.
In 2006, she graduated and was awarded first-class honors. She then completed her Masters in Education from The University of Cambridge. By this time, eczema had increased its assault on Shamsa's body and was now aggressively and unapologetically flared on her hands and neck. Yet, whilst this may have deterred some people from pursuing a career in teaching, Shamsa unabashedly continued forth in pursuit of her career goal.
She still struggles to manage her eczema and has good days and bad days. She has dabbled with complementary therapies as means of assuaging the symptoms of this pernicious ailment, with varying degrees of success. She is excited to join the AtopicDermatitis.net community of people because she is a firm advocate of 'knowledge is power'. Growing up she very often felt marginalized, isolated, and misunderstood in grappling with this poorly understood skin condition. She states that "only those who have it can truly empathize with the daily struggle of managing it." Thus, she is eager to increase awareness and understanding about eczema in any way she can.
Click here to read all of Shamsa's articles on AtopicDermatitis.net.