Best Face Forward: Facial Care Giveaway
In honor of Eczema Awareness Month, we are giving away some facial care products to help relieve your daily battle with eczema and sensitive skin.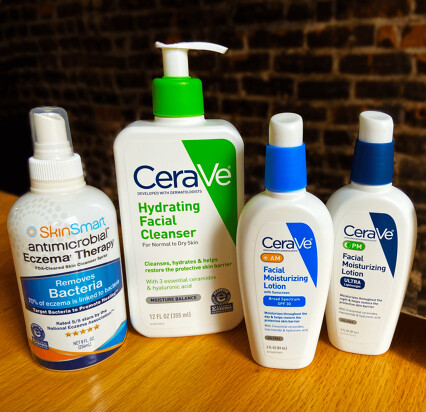 One lucky winner will receive a prize package containing 4 eczema products:
SkinSmart Antimicrobial Eczema Therapy Skin Cleanser Spray
CeraVe Hydrating Facial Cleanser
CeraVe AM Facial Moisturizing Lotion
CeraVe PM Facial Moisturizing Lotion
Enter to win
For a chance to win our Facial Care Giveaway:
Enter your email address in the box below and click subscribe. It is that easy! You may unsubscribe at any time:
Already subscribed to our newsletter? You may still enter the giveaway by submitting your email above! Just disregard the automatic message you will receive stating you are already on our email list.
For 1 bonus entry, submit a photo to our Faces of Eczema photo gallery.
The giveaway ends on October 29, 2021, at 4 PM ET. The winner will be notified via email. The winner has 48 hours to claim their prize before an alternate winner will be selected. For more information, please read our Terms and Conditions. Good luck!

Community Poll
Did you know October is eczema awareness month?