Antioxidant-Packed Blueberry Cacao Oatmeal For Healthy Skin
Last updated: January 2021
Did you know that there are many benefits to eating oats first thing in the morning every day? Oats improve digestion, are a great source of nutrition, and improve weight management. They also contain vitamins like vitamin B12 which is important for cell repair and renewal and vitamin E which is really good for helping to lubricate the skin and rebuild new layers of skin which is very helpful for people who have eczema.
Now, let's make some bomb-a** delicious oatmeal!
Ingredients for blueberry cacao oatmeal:
1/2 cup organic rolled oats (gluten-free optional)
1 cup of distilled water
1 tablespoon of extra virgin coconut oil
3 tablespoons of probiotic coconut yogurt of your choice
1 tablespoon of cacao powder
1/4 cup of blueberries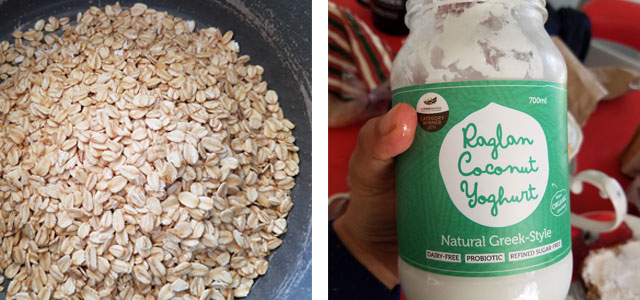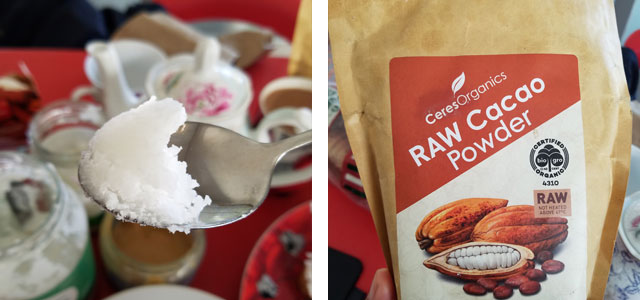 Directions for for blueberry cacao oatmeal:
Add the rolled oats and water in a medium pot and cook over medium heat for 5 to 10 minutes, depending on how soft and cooked down you like your porridge to be.
Author's Note: I usually enjoy having my oatmeal with a little texture, but still very easy to chew to make it more digestible, so I often opt for closer to 8 minutes myself.
Once they are cooked to your liking, put them into a bowl and add the remaining ingredients on top, starting with the yogurt, cacao and so forth.
Author's Note:The cacao powder can go before or after the blueberries. I just like to put them before the berries because I think it looks prettier but it doesn't really matter since they'll be going to the same destination in the end.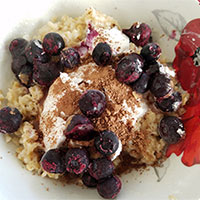 This oatmeal goes well with a cup of coffee, milk tea, or herbal tea. It's optional if you'd like to add any milk to the oatmeal, though it can be a nice addition as well.
Hope you enjoy this recipe and will consider adding more oats into your diet after trying this out!
Do you have your own eczema recipes?? Share here!
Nutrition facts
Per Serving
Disclaimer: AtopicDermatitis.net does not provide any express or implied warrant toward the content or outcome of any recipe.

Community Poll
Have you taken our In America Survey yet?