Liver Nourishing and Detoxifying Tea
This bitter dandelion and nettle tea is one of my go-tos when I have a really hot and itchy rash. Drinking this tea is a more gradual and gentle approach than taking the more bitter, purging Chinese herbs formulated by licensed Traditional Chinese Medicine doctors, which is what I would do if I were in a really serious and severe situation.
For general maintenance, I find that this tea does a pretty good job for more moderate to mild cases of itching. This is especially true when eating hot, spicy, or very sugary foods.
How is dandelion root good for the body?
Dandelion root is really great for liver detoxification and improving its functionality. It is bitter in taste and purging in energy. It is popularly used as a non-caffeinated coffee substitute because its bitter flavor lends itself well to coffee recipes.1
How is nettle leaf good for the body?
Nettle leaf is known in the herbalism community as nature's multivitamin. It contains many vitamins and minerals and can be taken safely on a daily basis for nutritional maintenance. It comes from the stinging nettle plant, and consuming this herb is also known to be helpful with allergies, whether it is seasonally with hay fever or allergic reactions from the food you eat.2
Consider it nature's Benadryl or Claritin. I remember suggesting this herb to an old coworker who had bad hay fever. Within a week, her sneezing and watery eye symptoms had improved so much that she asked me for more to make more tea with.
For me, nettle leaf tea alone can sometimes make me feel a little bit queasy despite its nutritional value, so I do like pairing it with the bitter flavor of dandelion root just to balance out the flavor profile for my palate. But perhaps for you or someone else out there, drinking nettle leaf tea alone will be just fine, and you will have a very different experience than I do.
When do I drink this tea?
I like to drink this tea after a meal because of its bitter flavor so that it is not too hard on my stomach. For this reason, I do not prefer drinking this on an empty stomach. I might have it once or twice a day with a meal depending on the intensity of my rashes.
Let's make this liver nourishing and detoxifying tea!
So having shared all of that, let's make some detoxifying herbal tea!
Prep time: 5 min
Steep time: 5 min
Serving Size: 1 cup/8 oz/236 ml
Number of Servings: 1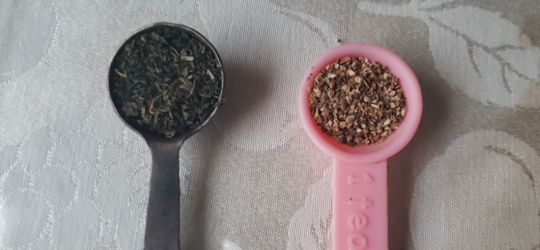 1 tbsp organic dandelion root
1 tbsp organic nettle leaf
1 cup boiling water
Tea strainer/small sieve
Your favorite mug
Optional: If this tea is too bitter for your taste and you are having a hard time stomaching it, you may put a teaspoon or less of a sweetener like Manuka honey. Or, if you are going sugar free, I personally enjoy adding a very small (needle-eye) amount of monk fruit or stevia leaf powder.
Directions for dandelion root and nettle leaf tea
Boil 1 cup/8 oz/236 ml of filtered water.
Get your favorite mug and tea strainer. Put the tea strainer on top of your mug.
Put 1 teaspoon of organic dandelion root and 1 teaspoon of organic nettle leaf in the strainer on top of your mug.
Once the water has finished boiling, pour it over the herbs until it fills the mug.
Let the herbs steep in the hot water for at least 5 minutes. You may let it steep longer if you want it stronger.
Once the water has turned a dark brownish, green color, it is ready to drink. Remove the tea strainer, and discard or compost the herbs.
If needed, wait a few minutes for the tea to be cool enough to drink. I like to wait 1 to 2 minutes after straining to drink my tea.
Drink in silence and gratitude. Appreciate the time you took out for your self-care.
Hope you enjoy this herbal elixir! Let us know if you try this recipe and what your experiences are with it in the comments down below.
Nutrition facts
Per Serving
calories: 0
carbohydrates: 0g
cholesterol: 0mg
fat: 0g
fiber: 0g
potassium: 2mg
protein: 0g
saturated fat: 0g
sodium: 7mg
sugars: 0g
Disclaimer: AtopicDermatitis.net does not provide any express or implied warrant toward the content or outcome of any recipe.

Community Poll
Do you prefer: