Oat and Blueberry Smoothie
Start your morning with a refreshing oat and blueberry smoothie.
Most agree that what we put into our bodies is vital to our well-being and overall health. However, I would argue that it's even more important to start your day on the right footing making sure you fuel yourself with the proper foods.
I used to start every day by having a cup of coffee. Now, there's nothing wrong with the odd coffee every now and then, but I now make sure caffeine is not the first thing I put into my body. I see it as putting the wrong type of fuel into your car. You wouldn't do it!
The importance of breakfast
A great way to begin the day is by making yourself a lovely refreshing oat and blueberry smoothie. It makes you feel great. It has lots of vitamins and nutrients that can allow your body to heal and it's a great way to kick-start your day. We have all skipped breakfast before and, I don't know about you, but I find myself snacking on rubbish when I do this or drinking too much coffee or tea. I'm a firm believer in having a healthy breakfast now. My mind feels sharper, I feel more alert and able to deal with life's daily struggles. In the past, I've left home with nothing in my stomach or an extremely sugary cereal with loads of E-numbers and colorings, and by mid-morning, I used to feel all erratic and weirdly disorganized. Of course, this would not be of great value to reducing my eczema symptoms.
So, thanks to the people closest to me we set about changing this with a more healthier and balanced diet.
Prep Time: 2 minutes
Makes 1 serving
Ingredients for oat and blueberry smoothie:
50g oats
10g flaxseed (2 teaspoons)
1 teaspoon of honey
1 tablespoon of blueberries
150ml almond milk
1 teaspoon of sunflower seeds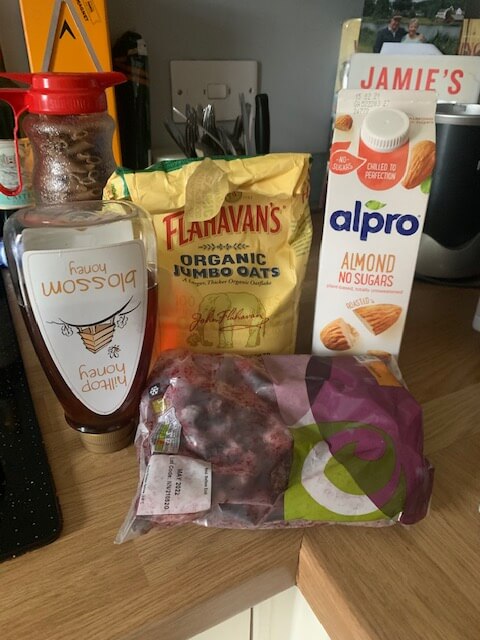 Directions for oat and blueberry smoothie:
Put all ingredients in a blender ideally in the order above.
Blend for 30/40 seconds.
Serve.
What's so special about oats?
Oats are extremely rich in antioxidants and contain a powerful soluble fiber called beta-glucan which can help to reduce cholesterol levels and boosting heart health. Because oats are known for their rich antioxidant and anti-inflammatory properties, they can also help to treat dry skin and remove dead skin cells.
What's so special about blueberries?
Blueberries are rich in antioxidants too! And are one of your five a day. They can act as an anti-inflammatory which is really beneficial to anyone with allergies. Like oats, they can help in staving off heart disease and also cancer. Blueberries are rich in vitamin C and K and other nutrients.
What else can be added?
You can also add other things to your smoothie like half a chopped banana and some yogurt but for me, I think less is more and like all the finest dishes in the world, simplicity is the important factor when making your smoothie. (It also means that cleaning your NutriBullet afterward will be a whole lot easier!!)
Mixing it up a bit can help to give your mornings more variety. There are plenty of variations that you can make to your smoothies. You can experiment with your favorite flavors. Researching the benefits of fruit and vegetables for atopic dermatitis sufferers will obviously make this worthwhile. Enjoy!!
Nutrition facts
Per Serving
calories: 624
carbohydrates: 52.4g
fat: 43.2g
fiber: 11.4g
potassium: 679mg
protein: 12.2g
saturated fat: 33.2g
sodium: 29mg
sugars: 12.4g
Disclaimer: AtopicDermatitis.net does not provide any express or implied warrant toward the content or outcome of any recipe.

Community Poll
Do you prefer: