The Impact of Atopic Dermatitis on Quality of Life
It is estimated that at least 3% of the U.S. population has atopic dermatitis (eczema), the chronic, inflammatory skin condition that is characterized by an intense itching. The prevalence of atopic dermatitis in U.S. adults has been estimated as possibly as high as 10%, with some people having adult-onset atopic dermatitis and others having persistent atopic dermatitis that was diagnosed in infancy or childhood. As anyone who deals with chronic atopic dermatitis can attest, the condition can impact a person's quality of life.
Recently, researchers quantified the impact of atopic dermatitis on quality of life, on mood and sleep, and on work productivity through a clinical study that was published in the Journal of the American Academy of Dermatology. Data was collected through the U.S. National Health and Wellness Survey, and the study data on people with atopic dermatitis was compared to people without skin disease and others with psoriasis, another chronic, inflammatory skin disease that is widely recognized as having a significant impact on patients' lives.1
Impact on mood and sleep disorders
Approximately one-third of the people with atopic dermatitis reported mood and sleep disorders, which is almost twice the rate reported by people who don't have a skin disorder.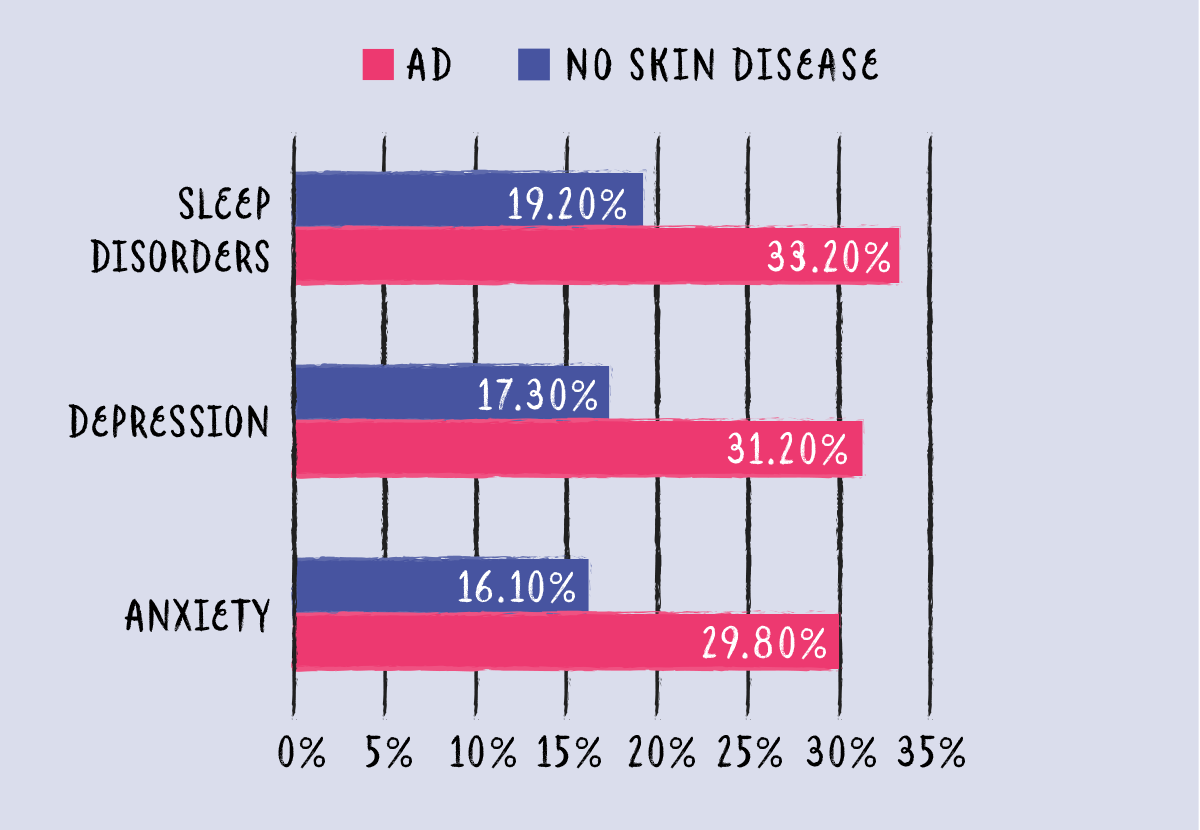 Having atopic dermatitis seems to have a greater impact on mood and sleep disorders than psoriasis does, with more people with atopic dermatitis reporting mood and sleep disorders than those with psoriasis.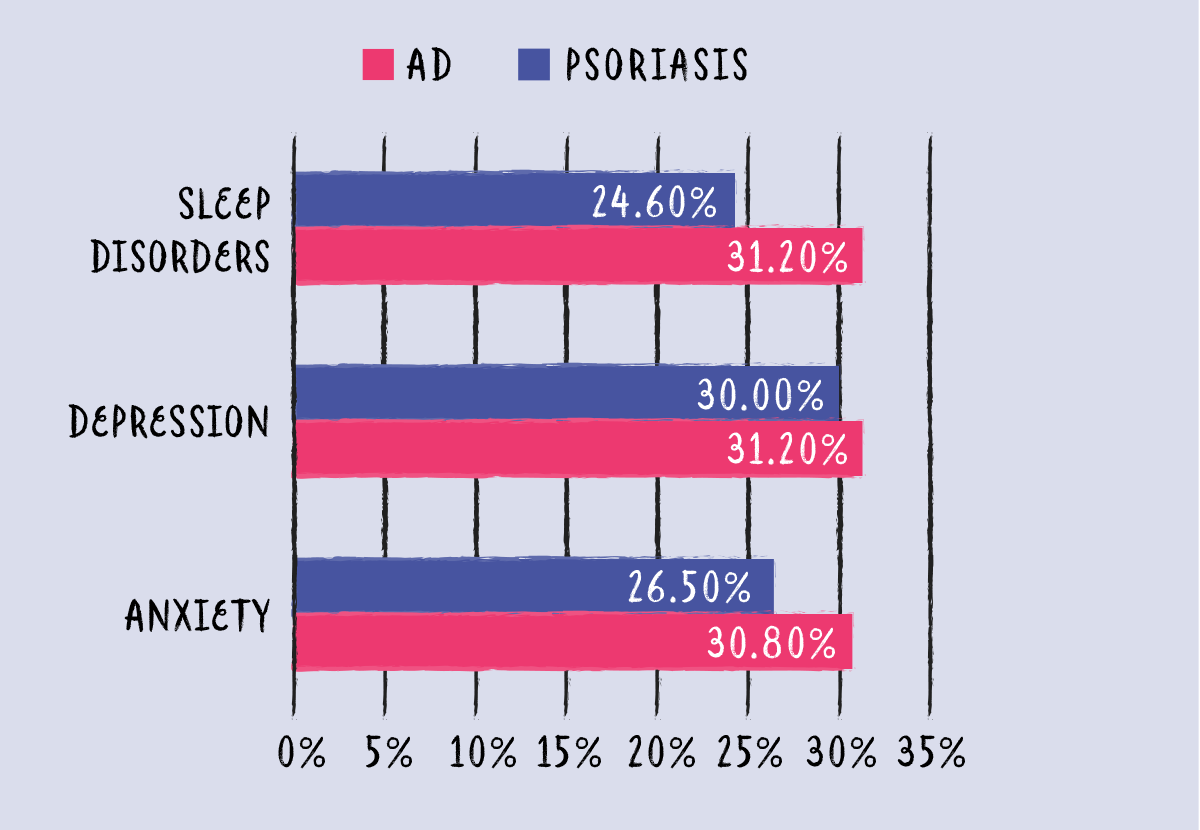 Impact on mental and physical quality of life
In assessing quality of life, higher scores on each of the scales indicate a better health status. The mean score for mental quality of life of those with atopic dermatitis was 44.5, compared to 48.0 for healthy people without skin disease. For physical quality of life, people with atopic dermatitis had a mean score of 47.5 versus healthy people with a score of 49.5.1 Compared to those with psoriasis, atopic dermatitis had a similar impact on quality of life. The differences between the scores of people with atopic dermatitis and those without skin disease reveal the mental and physical burden of atopic dermatitis that results in reduced vitality, less social functioning, or emotional well being.
Impact on work productivity
Atopic dermatitis had a similar affect on work productivity. Compared to employees without skin disease, people with atopic dermatitis had higher absenteeism (9.9% vs 3.6%). They also had less presenteeism – an assessment of a person's impairment at work due to their health problems. People with atopic dermatitis reported 21.1% presenteeism versus 16.1% of healthy people. Taking into account the absenteeism and presenteeism, the mean annual indirect costs for having atopic dermatitis were approximately $2,400 higher than for people without skin disease. Psoriasis had a similar impact on work productivity and indirect costs as atopic dermatitis.1
Importance of this data
The data from this study may be validating to those with atopic dermatitis, giving proof to the challenges they face in dealing with the chronic disease. This study is also significant because it provides data to support the need for additional funding and research into the causes and treatments for atopic dermatitis.

Community Poll
How does your eczema reoccurring make you feel?