Getting a Tattoo with Eczema
Last November, I got a tattoo for my birthday, and it's something that I had been planning for months. Now some people with eczema may think that getting a tattoo is a death wish for someone with hyperactive skin that is easily inflamed once exposed to something irritating whether it is a product, fingernail or scratchy clothing. But people with eczema, aside from myself, get tattoos and live to tell the tale.

This or That
What best describes you?
Tips for getting a tattoo with eczema
Here are some tips that I have for having a safe and successful tattoo appointment with eczema and things that you can do afterward to take care of it while it is healing over for the next few months.
If you have eczema and want to get a tattoo, it is possible. Just make sure that the area does not have any open, active wounds or flare-ups and you should be good to go!
Look into the tattoo ink
I first researched different types of tattoo ink that you can either order ahead of time to bring to your session or contact the tattoo artist to see if they happen to carry that line already. I really recommend going with vegan ink because they tend to have cleaner ingredients and sources of pigment, like iron oxides which are sourced from minerals from the earth.
Then, I looked up each ingredient individually online and on the Skin Deep Database to check out their toxicity levels. I ended up really liking the formula for True Black by Intenze Tattoo Ink which is available on Amazon, so very accessible.
Look up artist reviews
I also looked up reviews for his tattoo shop online just to see what his customers said about his personality and tattoo style. It was reassuring that many of his previous customers said he was very patient and good at explaining the tattoo process to newbies, making them feel very safe and comfortable getting their first tattoo. This let me know that he was a good listener, able to empathize, and would not be judgemental about me having eczema.
During the appointment
So, here is a photo of the tattoo that I got. And as you can see, there is a lot of detail and shading, and it definitely took a while to complete.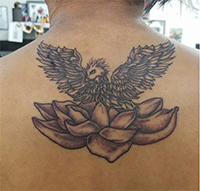 I did it all in one session and it lasted for 4 hours because I did not anticipate how painful it would be after my endorphins ran out in the first half of the session. If the thought of feeling any sense of scratching or irritation of the skin freaks you out, ask if your tattoo artist has a numbing spray they can use so that you can practically sleep through the session completely pain-free.
Tattoo aftercare
And finally, after getting my tattoo done, it is time to recover. Essentially getting a tattoo is getting a bunch of scratches in a slightly deeper level, so essentially getting a decorative wound and that will take up to around six months to heal fully. So don't be surprised when your skin on the tattoo peels off from time to time. It does not mean that you have dry skin or but there is there anything wrong with your tattoo; it's just part of the healing process, and it will keep happening until it's fully healed.
So, now it's been almost six months, and my tattoo is pretty much healed over. It feels great and still looks as fresh as a daisy since the day I got it because I've kept it well-lubricated and protected for the past few months.
This article represents the opinions, thoughts, and experiences of the author; none of this content has been paid for by any advertiser. The AtopicDermatitis.net team does not recommend or endorse any products or treatments discussed herein. Learn more about how we maintain editorial integrity
here
.

Community Poll
Do you prefer: