Hydrating and Soothing Calendula Rosewater Tea
This soothing calendula rose tea is one of my favorite herbal combinations when I am seeking a cooling, anti-inflammatory beverage. While it is great to have all year round, I find it particularly aligned with the seasons of spring and summer because of the sunny petals of the calendula flower and the beautiful aroma of roses.
What do calendula and rose do for the body?
Calendula is wonderful for the lymphatic system, detoxification, and cooling down inflammation in the body. Rose is similar and has the added benefit of supporting collagen production (which keeps the skin supple and firm) because of its vitamin C content and anti-aging properties.1,2
Together, these herbs provide a very soothing and slightly bittersweet flavor that may be beneficial for the liver and the heart.1,2
And if you are into herbalism and/or spirituality and are interested in the idea of spirit medicine or heart medicine, the energy of these herbs and flowers will be gentle and comforting. And both of those are qualities that are very helpful to have along your skin healing journey.
Let's make soothing herbal tea!
So having shared all of that, let's make some soothing herbal tea!
Prep time: 5 min
Steep time: 5 min
Serving Size: 1 cup/8 oz/236 ml
Number of Servings: 1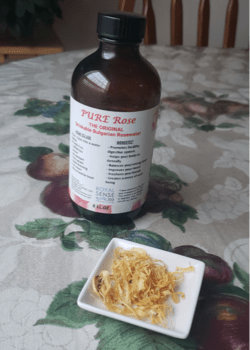 Ingredients for calendula rosewater tea
1 dried organic calendula flower head with attached petals / 2 tsp organic calendula petals
1 tsp organic rosewater (If you do not have access to rosewater, you can use 1 tsp of organic rose petals.)
1 cup boiling water
Your favorite mug
Directions for calendula rosewater tea
Boil 1 cup/8 oz/236 ml of water.
Get your favorite mug and tea strainer, and put the tea strainer on top of the mug.
Put the calendula flower petals in the tea strainer. (If you used organic rose petals instead of rosewater, you can add those petals as well so that they infuse together.)
Pour 1 cup of boiling water over the petals until the mug is full.
Steep the herbs in the water for about 5 minutes.
Once the color of the water has turned a golden yellow color, remove the tea strainer.
Discard or compost the calendula flower petals.
Add 1 teaspoon of the rosewater to the mug and mix with a spoon.
If needed, wait a few minutes for the tea to be cool enough to drink. I like to wait 1 to 2 minutes after straining to drink my tea.
Drink in silence and gratitude. Appreciate the time you took out for your self-care.
Nutrition facts
Per Serving
calories: 0
carbohydrates: 0g
cholesterol: 0mg
fat: 0g
fiber: 0g
potassium: 0mg
protein: 0g
saturated fat: 0g
sodium: 0mg
sugars: 0g
Disclaimer: AtopicDermatitis.net does not provide any express or implied warrant toward the content or outcome of any recipe.

Community Poll
Do you prefer: