Probiotic Coconut Peanut Butter Berry Toast
Last updated: January 2021
Toast is one of my favorite breakfast foods because it is quick, easy, and very versatile! Also, depending on the type of bread you use, it can also be very filling for a while!
Let's give this unique toast combination a whirl!
Ingredients for coconut peanut butter berry toast:
1 slice of multigrain toast
1 tablespoon of peanut butter or nut butter of your choice
2 tablespoons of probiotic coconut yogurt
1 handful of blueberries or berries of your choice
1-2 dashes of cinnamon (optional)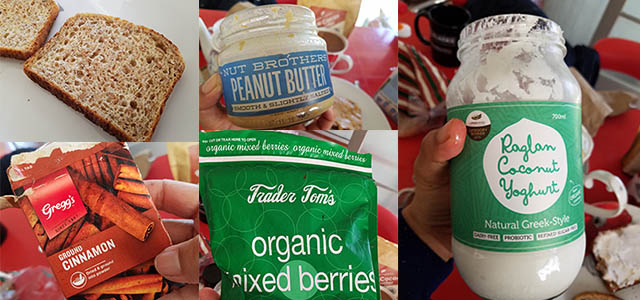 Directions for for coconut peanut butter berry toast:
Toast the slice of bread to your desired toastiness.
Author's Note: I usually like to go for something in the middle where it's not too soft, but also not burnt to a crisp! The middle setting on the toaster usually does the trick.
Then take a butter knife and spread on a good thin to medium layer of the peanut butter.
Follow up with a generous amount of coconut yogurt
Top with the berries.
Author's Note: If you're craving some warming spices, cinnamon also makes a nice addition on top!
Enjoy!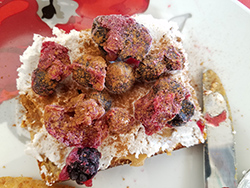 About the ingredients
Bread
While white bread is the popular go-to bread to use for breakfast toast, I much prefer the taste and texture of multigrain toasts that have healthy fats that come from things like flaxseeds, chia seeds, sunflower seeds, and sesame seeds. We are so lucky to live in a time with such a plethora of options! Multigrain toasts with healthy fats like these make the toast for much more of a satisfying meal than a quick morning snack and are much healthier because of their higher fiber content to boot! Also, if you're gluten-intolerant, there are more and more options for gluten-free options in health food stores and even on Amazon that you can have delivered if you search for it.
Berries
In terms of the fixings on top, I grew up eating peanut butter and jam sandwiches and thoughts of them as treats if my mom prepared them for me for breakfast. But now that I am vegan, sugar-free and overall living a much healthier lifestyle, I have replaced syrupy, sugar-filled jam with fresh or frozen berries and it has been a huge game changer! I actually enjoy it much more this way and the antioxidant benefits are much higher than when using a jam where the sugar content can cancel out the antioxidant benefits of the berries and create more heat and inflammation in the body, potentially contributing to the expression of rashes.
Yogurt
I also mix things up a bit by adding yogurt on top of the peanut butter both to add more probiotics to my diet, a contrast of color (because we all eat with our eyes first) and it genuinely tastes really good!
What kinds of interesting and tasty toast combinations do you enjoy eating for breakfast? Do you have a favorite topping that you find doesn't irritate, or possibly even helps your eczema as well? I'm always on the hunt for tasty and unique morning treat, so would love to hear about your creations and suggestions in the comments section below!
Do you have your own eczema recipes?? Share here!
Nutrition facts
Per Serving
Disclaimer: AtopicDermatitis.net does not provide any express or implied warrant toward the content or outcome of any recipe.

Community Poll
Have you taken our In America Survey yet?