Happy Belly Turmeric Berry Yogurt
Below is a fun and colorful spin that I put on yogurt if I have it for breakfast and sometimes even include on my toast. It also makes a great topping for cooked oatmeal and can be enjoyed alone or with some added berries, fruit, nuts and granola. It makes such a difference to just having plain yogurt and for such an incredible flavor, it is also incredibly easy to make!
Hope you will give this one a try because this one really is a goody!
Prep Time: 2 minutes
Cook Time: 3-5 minutes
Ingredients for turmeric berry yogurt
½ cup probiotic coconut yogurt
½ to 1 teaspoon of turmeric powder depending on how much you like the flavor
1 handful of berries, nuts, chocolates, and granola, optional.

Directions for turmeric berry yogurt
In a cup, mug or small bowl, combine the yogurt and turmeric powder evenly.
Let it sit for about 3 to 5 minutes to allow the turmeric powder to soften and fully integrate into the yogurt.
Author's Note: I find that if I tried to eat it immediately after mixing in the turmeric powder, that the texture of the powder can come off kind of sandy and not very pleasant textually or flavor-wise. After about 5 minutes, the magical, invisible ingredient of time creates a culinary alchemy that I can only describe as miraculous and blissful. An amazing treat that is also so good for the body!
Then top the yogurt with your favorite breakfast toppings.
Enjoy!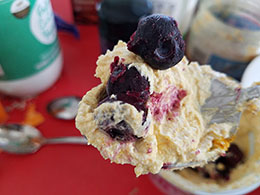 It is as quick and simple as that! This could also work well with matcha green tea powder, cacao powder or cinnamon as well.
About the ingredients:
In my experience, diet is often directly linked, though often not the only factor involved in causing eczema flares. Especially when the blood is full of high levels of acidity from eating a lot of junk food or dairy products and the gut is lacking in beneficial bacteria which also can be depleted from a highly acidic diet. This is where probiotic food like sauerkraut and yogurt can be very useful and tasty additions to your diet and restore balance to your body.
Turmeric
Turmeric is a powerful digestive and harmonizing herb that benefits the stomach as well as the immune system. It helps one to absorb the nutritional benefits of the food they eat more easily, so this bumps up the power of the probiotic yogurt and any other goodies you add like antioxidant-rich blueberries, strawberries or even apple.
What kind of things do you like to add to yogurt to make it more interesting and flavorful? Do you like adding granola? Or maybe you prefer nuts? Chia seed? Flaxseed? The possibilities are endless!
I'm always looking for new flavors and food to experiment with, so would love to hear from you in the comment section down below!
Do you have your own eczema recipes?? Share here!
Nutrition facts
Per Serving
calories: 673
carbohydrates: 93.3g
cholesterol: 5mg
fat: 28.2g
fiber: 9.6g
potassium: 559mg
protein: 16.4g
saturated fat: 8.1g
sodium: 194mg
sugars: 60.5g
Disclaimer: AtopicDermatitis.net does not provide any express or implied warrant toward the content or outcome of any recipe.

Community Poll
How does your emotional health relate to your physical health?