The Beauty of Eczema
Last updated: October 2021
Living with eczema is not easy to navigate. It isn't one size fits all, and it certainly doesn't come with a manual.
But, we get lucky enough with certain humans that have the ability to push past the pain and use it to fuel healing and hope. They share their gifts of positivity, reflection, and gentle kindness to steer us into the light.
Camille is that breath of fresh air.
Meet Camille
Camille Knowles, a bubbly Brit with a soothing voice, wasn't always so bright and at peace with her skin. She grew up with hand eczema, which blossomed into full-blown, head-to-toe infections by age twenty-one. Most young adults are out enjoying life, imbibing, finding love, while Camille laid in a hospital bed wondering how life got so off course. Her pain sat like a heavy fog, weighing down her prospects of a beautiful life.
Fighting for others
However, in those low moments came a spark.
"I was in such a dark place that I decided I could be the HOPE this world needs," she proclaims. "I was determined to go on a journey to find a way to live my most glowing and happiest life and teach others how to do the same. It gave me a purpose to fight for more than just my own life but for other sensitive skin angels, too."
Angels. It has become part of this inclusive world she has built for her skin family, that we are all worthy of peace and belonging. We are angels meant to transcend our pain and suffering and see it as a way back to ourselves.
The Beauty of Eczema brand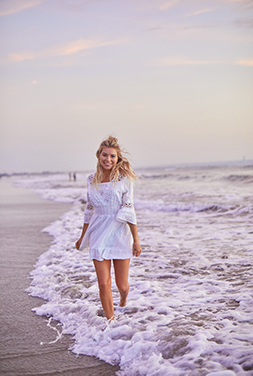 Because of her tenacity to push through, she created a brand, The Beauty of Eczema, which encompasses more than just physical skincare. She knows the toll eczema takes on more than just the body but the mind. Beauty and eczema are rarely seen in the same sentence, but she knew better. We are able to embrace our skin and all of its woes. Our body needs us, just like we need it.
The book
Her book, The Beauty of Eczema, dives deep into Camille's core.
"The Beauty of Eczema™ shares my personal story from pain to purpose. I talk very openly about my journey with my skin, from feeling different at high school to dictating all my choices around it to it leaving me hospitalized," she candidly states. "I also then share how I found 'HOPE' and the wellbeing principles I live by to keep me well, glowing, and thriving."
And, even though Camille feels compelled to do this for the skin community and her own healing, it isn't simple. Sharing vulnerable moments can be scary. We aren't accustomed to sharing the raw truths of our lives. Connection is key to seeing ourselves in others, and she does it with grace.
"It is hard but it is SO fulfilling," Camille says.
Our nutritional health
Besides her book and skincare line, Camille published a cookbook, The Beauty of Eating Well. Inside the cookbook lives a bevy of delicious dishes that are skin-friendly as well as affordable. She is very aware that not everyone's health journey is the same and takes that into account.
"We are all unique beings and must listen to our own bodies. My personal favorite dishes are banana bread, vegan nachos, and hummus dips. They are all free from eggs, dairy, gluten, and refined sugar but full of passion, flavor, and color."
Nutrition is key for some of us dealing with skin ailments. Camille was extremely thoughtful in choosing dishes that speak to her eczema angels.
Skincare regimen
When asked about her skincare line, it is difficult for her to pick just one product as her favorite.
"This is impossible to answer; I truly couldn't live without any of them now," she shares.
From luscious creams to bathing products, she covers all bases for herself and her angels.
Morning routine
"Every morning, I wake up and have a cold shower using the Skin Warrior Wash/Skin Wash from head to toe," she begins. "It is so gentle and moisturizing. I love how it feels on my skin. I then towel dry my body and cover it with the Calming Cream/Moisturizing cream. It is deeply hydrating, full of gorgeous natural ingredients, and when I apply it, I speak loving words to my skin, especially to those extra dry areas."
She is conscious of what she puts on her body as well as the words she uses. It is imperative that we speak kindly to ourselves. If houseplants can receive words of encouragement and care for growth, so can we.
Nighttime routine
"In the evening," Camille continues, "I will run a warm (not hot) bath and use the Bath Salts/Salty Soother & Bathing Oil/Pamper Me Bathing Oil. These give me the feeling of a self-love experience. I soak my body and imagine all the different salts cleansing my skin (I sometimes have cold baths and pretend I am in the sea). The milky bathing oil makes you skin feel so soft and hydrated. I adore it. I then towel dry and use my Calming Cream/Moisturizing Cream from head to toe again and love every inch of my amazing body."
As you can imagine, Camille's mind is an oasis of happy places and thoughts. It isn't always what we've been handed but what we fight for in this life that counts.
The ups and downs of eczema
To say Camille's journey has been all sunshine and cloudless skies since creating her skincare line would be a disservice. Her growth and daily practice of gratitude and peace are where strength is restored. That is where our fuel comes from, too. We must cultivate it, nurse it, everyday.
Treat your skin well. Speak comfort into your fragile body. Eat to nourish your flesh from the inside out.
Last thoughts
"When an arrow is pulled backward, it is about to fly forwards," Camille concludes. "I love that quote whenever I feel my skin is holding me back. I remember as I listen to what it is asking for, I will always FLY forwards. It gives me hope and trust every time."
Fly, angels.
You can learn more about Camille in her link tree.
This article represents the opinions, thoughts, and experiences of the author; none of this content has been paid for by any advertiser. The AtopicDermatitis.net team does not recommend or endorse any products or treatments discussed herein. Learn more about how we maintain editorial integrity
here
.

Community Poll
Do you prefer: