Protein-Rich Avocado Tomato Pasta for Rash Recovery (Vegan)
Pasta is one of the easiest dishes and most versatile to make.
This recipe is one that I literally made up in the kitchen a few days ago just getting creative in the kitchen. You can also add some really great fresh antioxidant-rich ingredients like vegetables and coconut milk to make it even healthier and to give you more great building blocks to creating great skin health.
Without further ado, let's get into it!
Prep Time: 7 minutes
Cook Time: 25 minutes
Makes 4 servings
Ingredients for avocado tomato pasta:
1 package of protein-rich pasta
½ avocado chopped
5 vine-ripe tomatoes/1 large tomato, chopped
1 tbsp extra virgin olive oil
2 cloves of garlic, minced
¼ onion, chopped
3 tbsp of soy sauce or a teaspoon of salt to taste
1 squeeze of lemon
1 cup of spinach/salad greens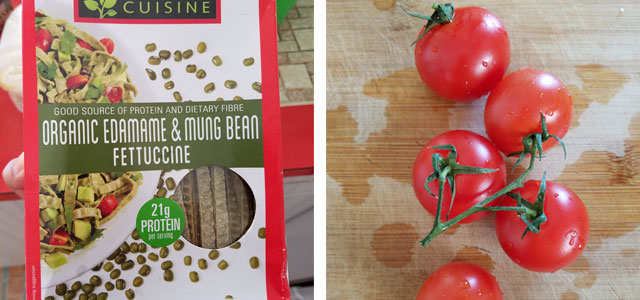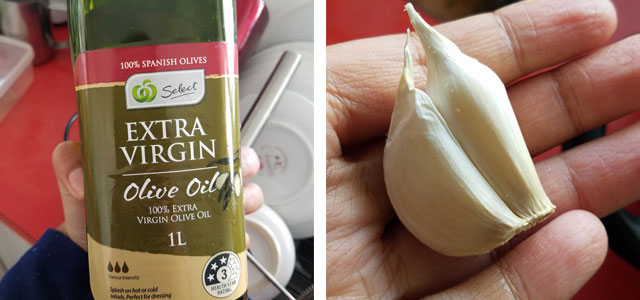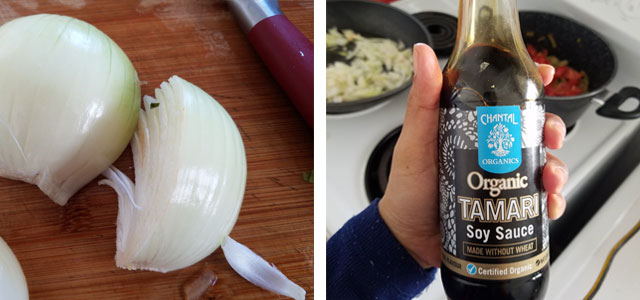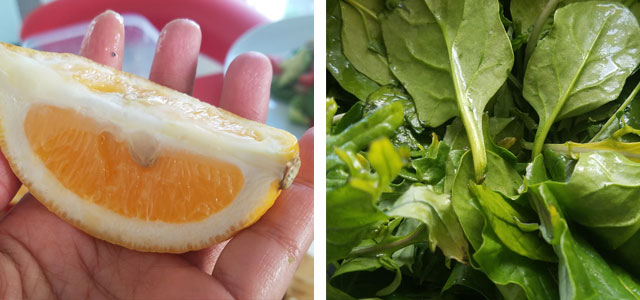 Directions for avocado tomato pasta:
Saute the garlic and onions in olive oil until browned and softened about 5 minutes.
Then add the cooked pasta and saute another 5-10 minutes.
Next, add the tomatoes and soy sauce and mix evenly.
To serve, put salad greens on a plate and add the pasta on top.
Add avocado chunks and squeeze of lemon for flavor and some fun presentation. Optionally, you can also had some spices like sweet basil or coriander for some more dynamic flavor and herbal benefits. Or if you can handle it, maybe also some chili flakes or chili powder.
Enjoy!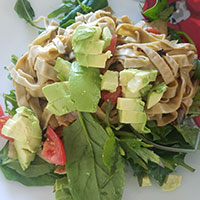 About the ingredients
Protein-rich pasta
Using pasta that uses protein sources like, edamame, lentils and beans can be a really great way to get in the healthy, light and satisfying proteins. Although we don't need to overdo eating protein, protein is important to have on a regular and balanced basis to help rebuild and restore skin cells if you have eczema. Proteins help make the cells that produce our skin, hair and nails. And having quality sources of them is helpful for building stronger, more resilient and supple, shiny versions of them.
Importance of versatility
Versatility, the ability to change things up and make something my own is one of my favorite things in life. This is especially true because of having eczema because having the ability to customize your dish allows you the freedom to add in healthier, fresher, and more beneficial foods to your diet rather than being at the mercy of whatever the chef prefers to use or having surprise allergenic ingredients sneak their way into your plate causing an inflammatory response. Being able to cook your own dishes to your liking with quality organic ingredients that you know are safe puts you in complete control which bypasses any need to feel anxious about whether or not what you're going to eat is going to trigger an itchfest or not.
What is your favorite pasta recipe that is both tasty and nourishing for your eczema? Do you find that certain pastas agree better with your belly as well as your skin? Do you make your own pasta from scratch? If so, what do you put in it to make it eczema-friendly? Would love to hear from you in the comments section down below!
Do you have your own eczema recipes?? Share here!
Nutrition facts
Per Serving
calories: 312
carbohydrate: 28.2
cholesterol: 0mg
fiber: 3.6g
protein: 26.7g
saturated fat: 1.7g
sodium: 697mg
sugars: 3.9g
Disclaimer: AtopicDermatitis.net does not provide any express or implied warrant toward the content or outcome of any recipe.

Community Poll
How does your eczema reoccurring make you feel?